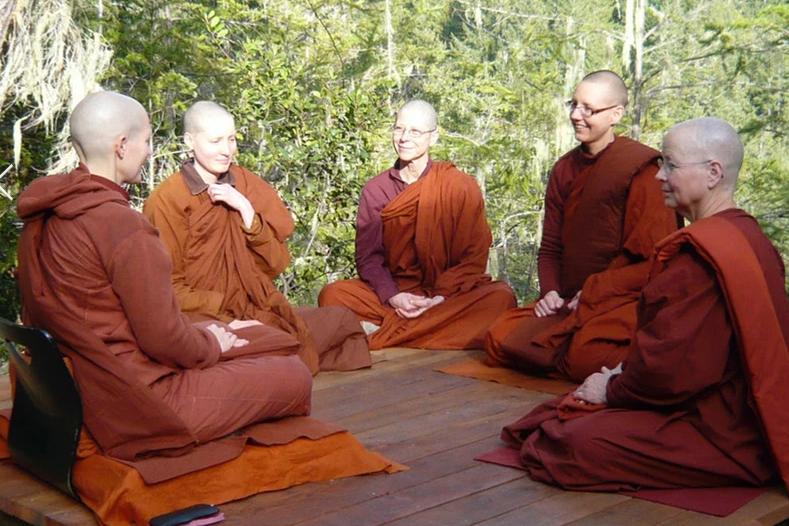 Date
Jan 15 2023

- Mar 25 2023
Expired!
Dhammadharini Monastery | Winter Retreat Uposatha Program 2023 (7:00 pm – 8:30 pm PT, US)
Dhammadharini's founding teacher, Ven. Ayya Tathaloka Theri, wishes to encourage everyone who can to join in undertaking a practice commitment together during this year's winter retreat, from near and far, wherever you are. In support of this, she will offer fortnightly Uposatha moon day teachings throughout the winter retreat to those who join in the practice commitment together. We invite you to commit to a practice for this time – this could be as small or as large as you wish. If your life circumstances allow, you are invited to follow along with the Dhammadharini community for the full retreat, joining our online teachings together.
We welcome you to share in Dhammadharini's winter retreat by joining for practice on the Uposatha lunar observance days:
Join online at 8:30am to undertake the Three Refuges and the Eight Uposatha Precepts, noting Uposatha precepts automatically expire at the next dawn.

Dedicate yourself to ethics, Dhamma and meditation practice throughout the day.

Join online at 7pm-8:30pm with Ven Tathaloka Theri for meditation, Dhamma talk and Dhamma discussion. (A different monastic will offer this teaching while Ven Tathaloka is in her secluded retreat time).
The Uposatha observance days will be on the Full Moon and New Moon days, dates to be announced, along with the practice theme for the retreat time.