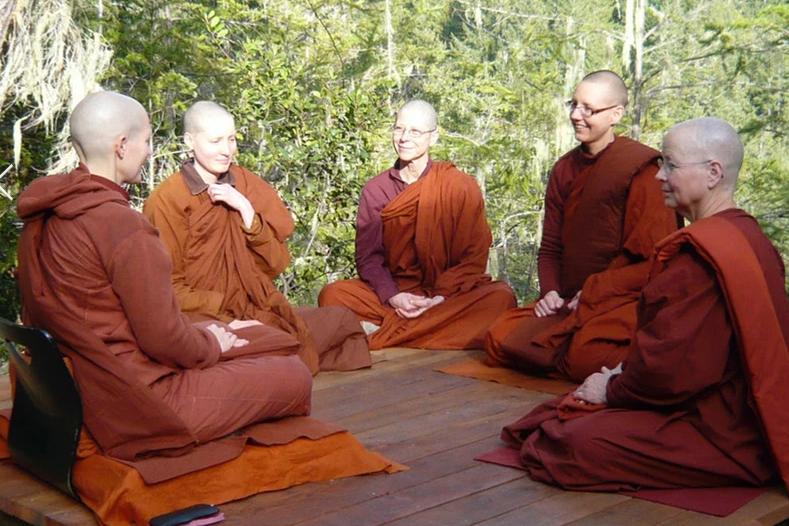 Date
Nov 01 - 30 2022
Expired!
Dhammadharini Monastery | Death Awareness Month (6:00 am – 9:00 pm PDT, US)
Dhammadharini's Death Awareness Month returns this year beginning November 1st!
Throughout November, Dhammadharini Bhikkhunis' community will offer programs focusing on death awareness.  Maranasati or Mindfulness of Death is an important practice that was taught by the Buddha.  Recognizing and reflecting on the fact that all that have been born will eventually die was, and is, a fundamental Buddhist Mindfulness and Insight practice.  This practice allows us to truly live, as well as to truly die.
Theme for Tuesday Evening Programs and Sunday Sutta Study For November, Dhammadharini's regular scheduled Tuesday and Sunday programs will be centered around this theme – you may register for these recurring events here:
This page has Sutta resources which you may find helpful.
Join us in offering blessings to departed dear ones
This is a time to remember our loved ones who have passed away, and especially the beings who died in human-made and natural disasters, and the COVID pandemic.  Friends of Dhammadharini are welcome to bring or send names and pictures of their deceased loved ones to the monastery. These would be kept at the side altar at Dhammadharini Monastery and be a focal point for sharing merits throughout the month. Those coming for the funeral chanting can bring these items to the monastery; those joining from home can prepare these on their own home altar.
Special Chanting
Special Chanting, 4:00 – 4:30 pm, Wednesday through Saturday Nov 1 to 30, followed by silent meditation.  There are two wonderful selections for chanting and reflection: The Suttas and Verses for Making Merit for the Dead and "Paṁsukula" verses traditionally chanted at funerals [Video on YouTube].  Weather permitting, this will be held outdoors at the Dhammadharini Monastery Sala pavilion, and local friends are welcome to join.
Day of the Dead – Tuesday November 1
Borrowing from the Christian tradition for Day of the Dead, November 1, you are welcome to add to your own home altar any pictures or tokens of those who have departed.  If you wish to share those images with

[email protected]

, we will keep them on our side altar as we share merits throughout the month.
Time and Date:  Tuesday Nov 1, from 7 to 8:30pm (our usual Tuesday evening time) on Zoom led by Ayya Sobhana
Healing and Reconciliation for Veterans of War – Sunday November 13
A time for Dhamma reflection, healing and reconciliation, especially dedicated for anyone who has been involved in killing during times of war, and for all who are affected by the wartime trauma.
Time and Date:  Nov 13, from 1 to 2:30pm (our regular Sunday Sutta Study time) on Zoom, led by Ayya Sobhana
Dying the Buddhist Way: What can we learn from Buddhist traditions? Ayya Tathaloka hopes to offer a special seminar on the traditional Buddhist practices and knowledge related to death and dying, with a look at how these practices may inform and manifest in our modern Western world.  – further details to be announced
Time and Date:   TBD, led by Ayya Tathaloka
Remembering our Deceased Loved Ones – Thanksgiving Sunday November 27
Remembering our deceased loved ones with gratitude, together with sutta readings.  Friends are invited to bring pictures of their loved ones, flowers, a poem, a memento. Those coming for the funeral chanting can bring these items to the monastery; those joining from home can prepare these on their own home altar.
Time and Date: 1-2:30pm (our regular Sunday Sutta Study time) on Zoom, led by Ayya Suvijjana
Throughout the Thanksgiving weekend, friends are welcome to visit and offer merits at Dhammadharini Monastery's outdoor Dana Sala pavilion. Weather permitting, the Bhikkhunis would offer a Puja and special chanting at 4pm PST Pacific Time outside each day (privately indoors if strongly raining).
How to participate from home:
Send the names and images of your deceased loved ones to be included in chanting (send by email or post to Dhammadharini Monastery at the address below).

Practice Maranasati Mindfulness of Death Meditation at home [Resource]
Please register below to join us for any of these events throughout November.
Dhammadharini Death Awareness Month