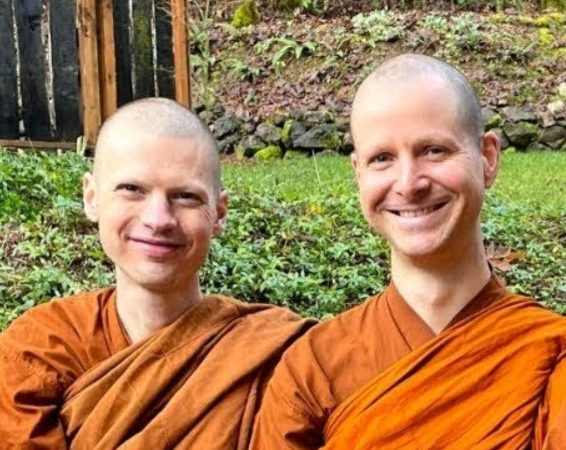 Date
Jun 17 2023
Expired!
Time
America/ Los Angeles
9:30 am - 2:00 pm
Clear Mountain | "Finding a Home" Robe Offering Ceremony: Celebrating Community (Online & In-Person) (9:30 am – 2:00 pm; PT, US)
Join the Clear Mountain community from 9:30 am – 2 pm on Sat. June 17th, in celebrating the past two years of a growing community, gathering support for the next phase of the monastery, and welcoming Luang Por Pasanno, founder of Abhayagiri Buddhist monastery, and Ayyā Anandabodhi, founder of Āloka Vihāra Forest Monastery.
Traditionally, Kathina and Robe Offering Ceremonies (ผ้าป่า "Pah Bah" in Thai) are the primary events initiated and organized by the lay community in support of monasteries. Every year, many in the community come forward as "sponsors" to champion the event among their friends and family, spreading the word and getting the wider community excited and engaged. We come together in celebration and support of the monastics, their practice and their service to the community by offering food, cloth, and other requisites. Clear Mountain's 2023 Robe Offering Ceremony, "Finding a Home", is being held this year to gather support for the purchase of land and buildings for the future monastery.  You can find a more detailed description of robe offering ceremonies here. To learn more, step forward as a sponsor, or help as a volunteer, you may contact Ladawan Kongkarat at [email protected].
You can spread the word by sending this flyer to those you think might be interested in coming or offering support.
Everyone is welcome to attend and participate in all or any part of the Robe Offering festival. Feel free to offer food at the potluck, and participate in the joyful feast! Those unable to attend in-person are welcome to tune in via Zoom or YouTube livestream. Welcome!
Schedule
9:30 – 10 am: Brief welcome, introduction, & guided meditation.
10 – 10:45 am:
Dhamma Talk by Luang Por Pasanno


10:45 am – 12:30 pm: Potluck Meal
12:30 – 1:15 pm: Robe Offering Ceremony
1:15 – 2 pm:

Dhamma Talk by Ayyā Anandabodhi & Closing

Zoom Link

https://us02web.zoom.us/j/82909114254?pwd=Sm1RVWxYdWp0aldibENoOHJscTQvQT09
Meeting ID: 829 0911 4254 / Passcode: 917562

 Clear Mountain 2023 Robe Offering Ceremony